NEW ARRIVALS: Mooer GE150 Amp Modelling & Multi Effects Pedal
NEW ARRIVALS: Mooer GE150 Amp Modelling & Multi Effects Pedal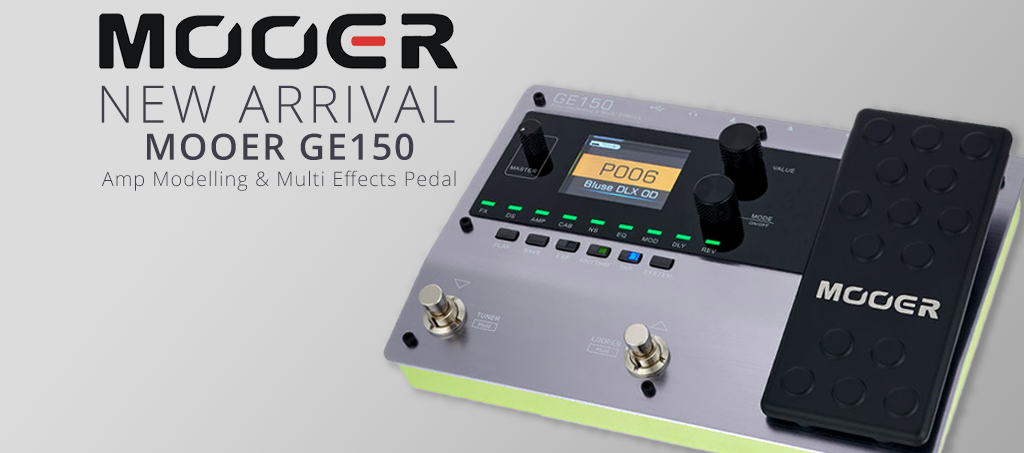 Mooer is shaking up the compact multi-effects market with the brand new GE150 guitar and amp modeller, now available from Living Music.
Succeeding the ever-popular GE100, Mooer has combined stacks of signal processing features into a portable unit and priced it competitively to boot!
Much like a scaled down version of the flagship GE300, the GE150 organises all its digitally created effects and amp modelling profiles into categories called effects blocks; the GE150 has nine effects blocks to choose from. You'll find reverb, delay, modulation, overdrive, distortion, all the amp models and cabinet simulations, wah and noise gate. In all, the GE150 incorporates a staggering 151 effects options!
The GE150 boasts 55 digital amp models, based on Mooer's Micro Preamp series, plus a fully featured IR loader, so you can add all your preferred third-party IRs to fully customise your recording and live options.
The GE150 also includes USB-B OTG (On-The-Go) output, which allows you to record directly to an OTG-supported phone or tablet - you can hook up to a computer or laptop, too! The unit's firmware can also be updated using the USB-B port.
The built-in looping function can record loops up to 80 seconds long and is activated by one of the two footswitches on the unit. The other footswitch controls the onboard tuner.
The GE150 comes with a programmable footswitch, with a tap tempo function for configuring your time sensitive effects, and comes pre-programmed with a whole host of presets. The expression pedal allows you to quickly cycle through parameters.
To round out the package, there is a metronome with 10 different options, and 40 drum rhythms, making the GE150 an excellent practice tool. 
Check out the GE150 in store at your local Living Music or shop online now!
Features:
55 amp models from Mooer's Micro Preamp series. Support for third-party impulse response files to get the same dynamics and feel of a real tube amp. 
Up to 9 effect types with 151 different effects total 
Tap tempo function
Expression pedal to control multiple values by one touch. 
Firmware update via USB
Looper with 80-second capacity
Headphone output 
Aux input and built-in tuner
40 drum rhythms
10 metronome options   
USB On-The-Go output for compatible smartphones and tablets
​