NEW ARRIVALS: Line 6 Spider V 30 MkII 30 Watt Modelling Solid State Combo Amplifier
NEW ARRIVALS: Line 6 Spider V 30 MkII 30 Watt Modelling Solid State Combo Amplifier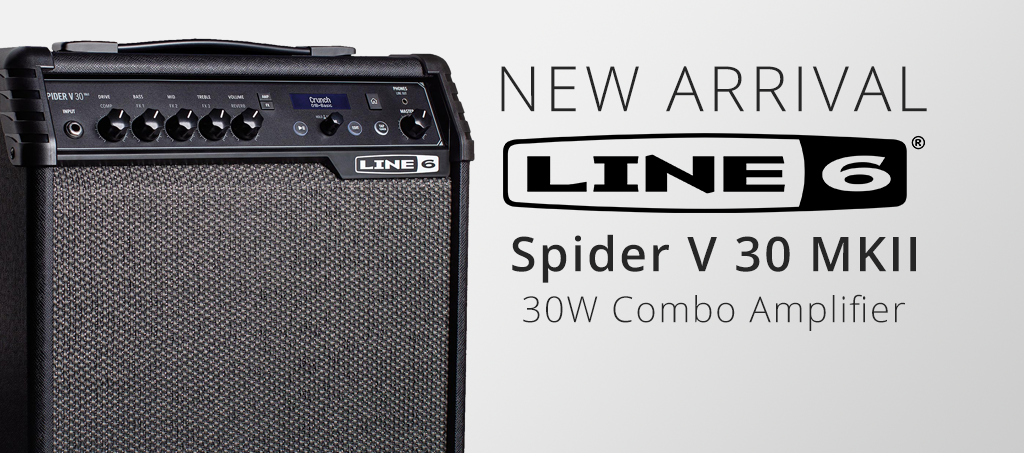 The new Line 6 Spider V 30 MkII has something to offer every player - it can conjure up nearly any tone you can imagine. The Spider V 30 MkII offers several advantages over its predecessor, including Classic Speaker mode, which puts the organic feel of a traditional guitar amp at your fingertips, and Artist and Iconic Song presets, which provide real-deal building blocks for your own signature tone. Whether you're into raging metal, ambient soundscapes, or chiming pop, plug into the Spider V 30 MkII - there's a universe of guitar tone waiting.
The Line 6 Spider V 30 MkII is loaded with a full arsenal of presets. The quality of the presets has been vastly improved when compared to the Spider V 30 MkII's predecessor - their modeled amp characteristics, such as compression qualities and EQ curves, have been dialed in better than ever before. What's more, Line 6 brought in high-profile artists to help develop additional presets. This gives you spot-on Artist and Iconic Song presets, not to mention a whole bevy of classic amp presets. With over 200 killer presets and an intuitive, color-coded control set, the Spider V 30 MkII makes it quick and easy to nail the perfect tone.
No conventional guitar amp, Line 6 spec'd the Spider V 30 MkII with a full-range speaker system that includes a custom-designed guitar speaker plus a high-frequency driver. The benefit here is that your amp will sound fantastic with not only electric and acoustic guitars, modeled amps, and effects, but you can also plug in a full mix and hear it in high fidelity. Want to go old school? No problem. The Spider V 30 MkII's Classic Speaker mode automatically shuts off its high-frequency driver and cab/mic modeling, yielding an organic sound and feel for the traditional-minded guitarist.
Line 6 packed their Spider V MkII amps with useful extras that you'll appreciate and rely on. Maintain perfect tuning with the onboard tuner, sharpen your time with a built-in metronome, craft a layered performance with a 60-second looper and get into the groove by playing along with pro-quality drum loops. When you're ready to record, Spider V 30 MkII is equipped with a USB connection that enables you to connect to a computer, tablet or even your smart phone and record your guitar into any recording app.
Features:
30-watt guitar amp with updated amp and effects models
Access an arsenal of models with fast and easy color-coded controls
200+ pro-crafted presets include iconic rigs and classic artist sounds
Full-range 2-way speaker system sounds great with electrics, acoustics, and full mixes
Classic Speaker mode automatically shuts off the HF driver and cab/mic modeling
Onboard tuner, metronome, looper, and drum loops
Mac/PC, iOS, and Android connectivity
Compatible with Line 6 FBV control pedal
Headphone output, aux input jacks
The Line 6 Spider 30 MkII is now available instore at Living Music Greensborough, Living Music Carlton and online.