NEW ARRIVAL: Tokai "Terra Nova" Series Acoustic-Electric Guitars
NEW ARRIVAL: Tokai "Terra Nova" Series Acoustic-Electric Guitars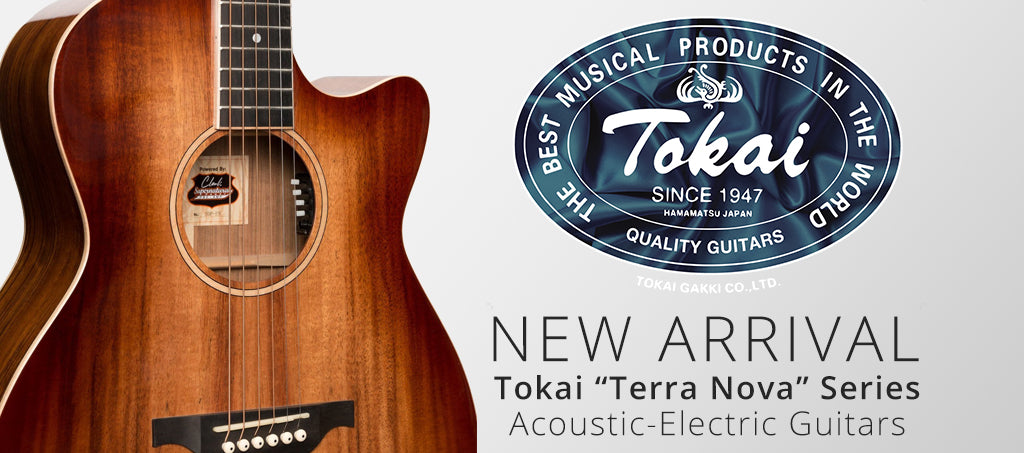 The brand new Tokai Terra Nova Series signals a revolution in acoustic-electric guitar functionality and performance. These incredible guitars have just arrived at Living Music Stores!
Crafted to Tokai's exacting standards, the Terra Nova series boasts exquisite quality and design, resulting in a guitar that is as sonically beautiful as it is aesthetically.
A combination of old world style, traditional construction methods, beautiful tone woods  and ground-breaking technology, the Terra Nova series provides guitarists with an instrument that not only excels acoustically, but which produces the most truthful and transparent amplified tone available today. 
The secret to the Terra Nova's breathtaking amplified tone lies in the one of a kind Supernatural pickup system, developed by the legendary modern guitar innovator, Brad Clark. 
Brad Clark's Supernatural pickup system was developed to overcome the limitations of traditional analogue pickup systems, and create a pickup that accurately reproduces the tonal complexity of acoustic guitars – resulting in an amplified tone so natural, it's supernatural.
Unlike traditional single piezo pickup systems, the Supernatural pickup utilises six large cylindrical piezos mounted under the bridge plate, allowing the guitar's individual "woody" tonal characteristics to be accurately reproduced. Each Supernatural pickup is tuned using specialty EQ filters which take into account the guitar's body shape, timbers and finish, resulting in four unique "soundscapes" which users can scroll between with a click of a button.
In addition to the pre-programmed soundscapes, Supernatural pickups feature four independent sliders, each slider providing users with control over a section of the analogue 3-Band graphic EQ (bass, mid-range and top end), and master volume.
The Terra Nova series guitars are available in a range of tonewood combinations.
The Terra Nova K5 range produces the complex, harmonically rich tones synonymous with koa. Solid Koa top with Solid Ovangkol back and sides offers flat-pickers and finger-style players alike exquisite top end sparkle, controlled bass and extended mid-range response. 
The Terra Nova S4 range draws inspiration from a tried and true workhorse formula, Solid Spruce top with Solid Sapele back and sides. providing players with traditional full bodied, punchy tone and outstanding projection.
The Terra Nova M3 range produces the warm and mid-forward tone synonymous with mahogany. Solid mahogany top with laminate mahogany back and sides offers sweet high-end, rounded bass and unequaled warmth in the mid-range response. 
There is a Terra Nova waiting to be discovered at your nearest Living Music store!
Contact your nearest Living Music store.