GIFT IDEAS: COUNTDOWN TO CHRISTMAS - 2 Weeks To Go!
GIFT IDEAS: COUNTDOWN TO CHRISTMAS - 2 Weeks To Go!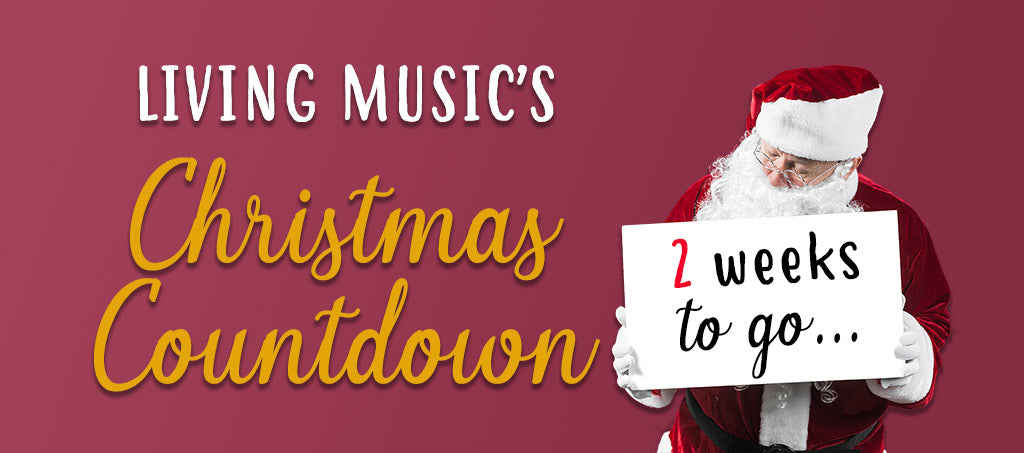 2 weeks to go!
He's making a list, checking it twice... Here's 10 awesome gift ideas from Living Music to add to your Christmas wish list! 

Click the links to view the items online OR check them out in store at your local Living Music - we have 2 locations in Greensborough and Carlton, Melbourne!
Line 6 Spider V 30 Watt Modelling Combo Amplifier
RRP: $399.95
Featuring amazing guitar amp and effects modeling, an easy-to-use design, and a full-range speaker configuration, the Line 6 Spider V 30 is packed with the innovative features modern guitarists crave. 
G7th Performance 2 Steel String Guitar Capo (Silver)
RRP: $89.95
Unlike a simple spring capo, which can be loaded with up to twice the pressure needed on most guitars, the Performance 2 Capo give you unparalleled, intuitive control over the tension placed on your strings. This means significantly less tuning issues and slows fret wear caused by excessive force from lesser capos.
Yamaha DTX450K Electronic Drum Kit
RRP: $1,099
The Yamaha DTX450K features dynamic acoustic drum and percussion sounds, plus modern rock drums and electronic tones. Customize the kits to match your style, and practice with interactive training functions featuring a "Voice Guidance" system - it's like having a talking drum teacher built-in! Play along with the musical practice songs or aux input.
J&D Luthiers Traditional ST-Style Electric Guitar (Vintage White)
RRP: $399
The J&D Traditional ST guitar provides authentic vintage tone and playability at an unprecedented price. Features the classic 5-way switch, master volume and two control configuration, as well as a vintage style bridge and tremolo.
Mooer GE-100 Guitar Multi EFX Processor
RRP: $189.95
The Mooer GE-100 uses a completely new digital platform to provide you with the most authentic, modern and rich tones. Whether you're wanting stompbox simulation, amp simulation, or other effects which carry Mooer's legacy, the GE-100 can do it all.
Yamaha P45B 88 Note Portable Digital Piano (Black)
RRP: $699.95
This weighted action digital piano has a contemporary design with a small footprint that allows for easy portability and storage. The Yamaha GHS Graded Hammer Standard piano action provides a heavier touch on the lower keys, while the higher ones are more responsive to lighter playing, very similar to a traditional acoustic piano.
Delta Blues 10 Hole Diatonic Harmonica in C
RRP: $9.95
The Delta Blues Harmonica in the Key of C is an awesome first harp for beginners. With an attractive Chrome finish, this 10 hole diatonic harp is easy to learn and comes with a handy plastic carry case.
Soundart Hand Held Dynamic Vocal Microphone
RRP: $59.95
The Soundart Performance Series delivers innovative design, quality reproduction and unsurpassed value.
Fretz Multi-Rack Guitar Stand to Fit 5 Guitars
RRP: $69.95
The Fretz multi-rack guitar stand offers an easily transportable multiple guitar stand solution in a foldable, light weight and durable design. Also available for 3 and 7 guitars.
Steinberg UR12 2 Channel USB Audio Interface with Cubase AI
RRP: $149.95
The UR12 features a single microphone preamplifier with XLR input and a TRS line level input, so you can easily track line-level as well as your microphones. Powerful Cubase AI software is also included, for up to 32 audio tracks and up to 48 MIDI tracks.