NEW ARRIVALS: New Martinez Wood Finish Guitars
NEW ARRIVALS: New Martinez Wood Finish Guitars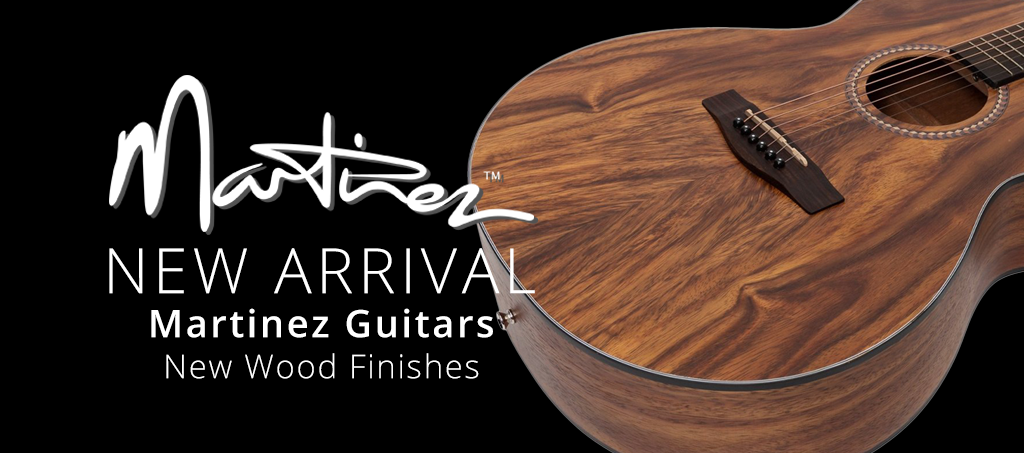 Martinez have just released new wood finishes in their ever popular Babe Traveller, Midi Traveller, Short Scale, MF25 Series 000-Style and Jazz Hybrid body shapes. Living Music is excited to be offering this awesome range of affordable, high quality instruments! 
The beautiful new wood finishes include Acacia, Jati-Teakwood, Koa, Mahogany, Mindi-Wood, Rosewood and Spruce with Koa back and sides. Please note wood finish availability vary by model.
Shop the full range of New Arrival Martinez Guitars HERE.
Babe and Middy Travellers
Martinez's Babe and Midi Travellers are the perfect guitar for those short of space, or the travelling musician looking for a quality guitar to take on the road. Don't let the size fool you - these guitars play like a traveller, but sound a whole lot bigger! Babe Travellers have a scale length of 23"; Midi Travellers have a 24.75" scale length.
Shop New Arrival Babe and Midi Travellers HERE.
Short Scale Acoustic
Martinez SS2 Short Scale guitars are a fantastic smaller-bodied acoustic, ideal for travelling musicians or players wanting the added comfort of a compact guitar without having to sacrifice tone. 
The Martinez SS2 features a 23.5" scale and 'Mini' body shape with arched back, which delivers incredible warmth and resonance for an acoustic of its size.
Shop New Arrival Short Scale Acoustics HERE. 
Small Body Acoustic
The Martinez MF-25 Small Body guitars are a versatile and compact acoustic, which provide players with a bright and balanced tone.
With its smaller '000' body, the folk sized MF-25 is the ideal 'couch guitar', resonating a significant tonal range without sacrificing projection and volume.
Shop New Arrival Small Body Acoustics HERE.
Jazz Hybrid Acoustic
With elegant archtop styling coupled with traditional flat top design, the Martinez Jazz Hybrid guitar is not your everyday acoustic, providing the best of both worlds with its head turning good looks and full bodied acoustic tone.
The Jazz Hybrid is an ideal choice for the aficionado and enthusiast alike, offering easy playability and warm tone, within a vintage-styled package.
Shop New Arrival Jazz Hybrids HERE.