GIFT IDEAS: Secret Santa Gift Guide - Gifts Under $20, $30 and $60!
GIFT IDEAS: Secret Santa Gift Guide - Gifts Under $20, $30 and $60!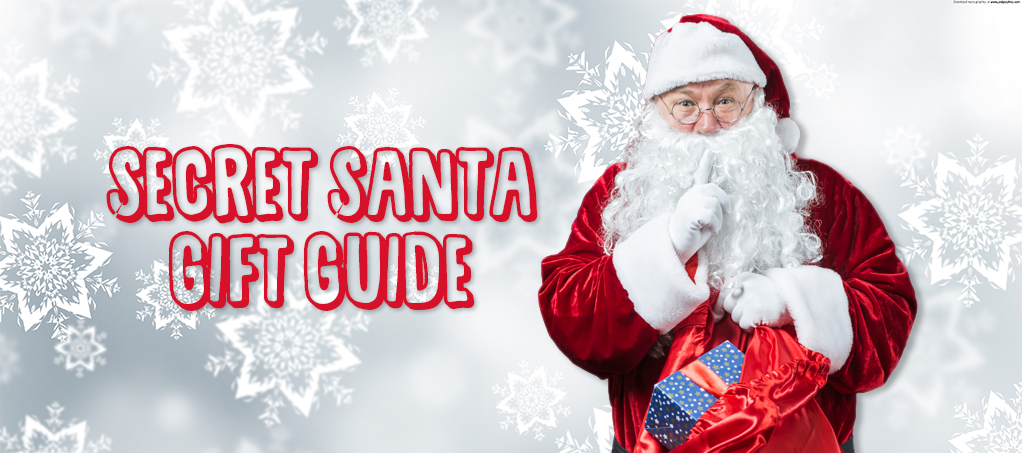 You've pulled a name out of the Secret Santa hat and you're filled with panic: "What on earth do I get them?!"
Never fear! Here at Living Music we've put together a list of gift ideas for all Secret Santa budget levels, so you can relax and nail your gift exchange with something they will love!
Gifts Under $20
Crossfire Guitar Care Kit: Guitar Polish, String Winder & Cloth
RRP: $16.95
This handy little kit has everything you need to keep your guitar in tip-top shape! Contains one bottle of "clean and restore" guitar polish, one polish cloth and one string winder with bridge-pin puller.
Shop HERE.
Tiki Quick-Grip Ukulele Capo
RRP: $15.95
This handy little uke capo features an easy to use self-tensioning system, allowing you to transfer the capo between different sized ukuleles without needing to re-adjust.
Available in Black and White.
Crossfire Metal Guitar Slide
RRP: $17.95
This large metal guitar slide is an awesome idea for anyone wanting to dip their toes into the world of slide!
Shop HERE.
Fretz "Woodie" Short Wall-Mounted Guitar Hanger
RRP: $15.95
The Woodie wall hanger is an ideal way to get your guitar off the floor and displayed proudly in your music room, living room or bedroom! It features a stylish maple mounting block that can be screwed in horizontally or vertically and protective rubber yoke support that will suit most guitars or ukuleles.
Shop HERE.
Crossfire Deltek Canned Guitar Picks (20 Pack)
RRP: $13.95
These picks have an improved grip coating and come in an assortment of colours. The handy tin allows you to keep them all in one place - say goodbye to having to say goodbye to lost picks!
Available in Light, Medium and Heavy thicknesses.
Delta Blues 10 Hole Diatonic Harmonica
RRP: $9.95
Start playing the harmonica this Christmas! With an attractive chrome finish, this 10 hole diatonic harp is easy to learn and comes with a handy plastic carry case.
Available in the Key of A, C, D and G. Shop the range HERE.
Gifts Under $30
Crossfire Universal Guitar Capo
RRP: $24.95
This capo can be used for acoustic, electric and classical guitars thanks to its clever double sided design. With an easy to use screw function, this handy capo is an must in your accessory arsenal!
Available in Black, Mahogany and Silver.
Fretz Microfibre Leather Guitar Strap
RRP: $24.95
This quality leather strap is suitable for all guitars and basses. At 6.5cm wide and length adjustable, this stylish strap will get you up out of your chair to rock and roll!
Available in Black, Brown and Dark Brown.
Crossfire Chromatic Clip-On Headstock Tuner
RRP: $29.95
This handy little tuner is suitable for use with guitar, bass and ukulele. Accurate and easy to use, simply clip it on and you're good to go! Battery included.
Shop HERE.
JamStands A-Frame Adjustable Wire Guitar Stand
RRP: $24.99
This lightweight wire A-frame guitar stand by JamStands is a great go-anywhere stand. It holds both acoustic and electric guitars and folds up nicely for storage and simple transport.
Shop HERE.
Fretz "Woodie" Adjustable Guitar Footstool
RRP: $24.95
This adjustable guitar footstool is the perfect accessory for any guitarist needing a boost when sitting down! The "Woodie" footstool features timber construction, adjustable footrest angle and convenient collapsible design for easy transport and storage.
Shop HERE.
Crossfire Deluxe Ear Plugs
RRP: $29.95
Your hearing is one of your most important senses; protect it when gigging with the Crossfire Deluxe Ear Plugs! These reusable ear plugs offer certified class-3 protection (18 - 21 dB), don't cause muddy sound and come in a handy storage container.
Available in Small, Medium and Large.
Drumfire Diatonic Metallophone with Beater
RRP: $24.95
Make some noise this Christmas with the Drumfire metallophone! Featuring 8 red metal bars, a wooden base with recessed handle and complete with beater, this instrument is fun for all ages.
Shop HERE.
Gifts Under $60
Boss TU-10 Chromatic Clip-On Headstock Tuner
RRP: $49.95
The Boss TU-10 offers a stylish design and robust body with high-performance features such as Accu-Pitch, flat tuning up to five semitones, and Stream mode.
Shop HERE.
Promark Stick Depot
RRP: $34.99
Keep your spare sticks within reach when gigging or store them safely when you aren't playing! This handy stick depot holds a single pair of sticks and easily attaches to any cymbal stand. 
Shop HERE.
Sanchez Ukulele with Gig Bag
RRP from $44.95
Ukulele is an easy and versatile instrument to learn. The colourful Sanchez range of ukes make the perfect gift this Christmas! Each model comes complete with a nylon gig bag.
Shop the range HERE.
Crossfire Distortion Guitar Effects Pedal
On Sale: $47.96
This pedal delivers a warm, rich and detailed distortion in heavy duty metal casing. It would make an ideal first pedal for the guitarist wanting to dip a toe into the world of effects for the first time!
Shop HERE.
Crown Mini Mechanical Metronome
RRP: $44.95
Easily keep time when practising with the Crown Mini Mechanical Metronome. This super compact metronome (without bell) features a swinging pendulum and clockwork action, powered by a wind-up key mechanism. Available in Black, Red and White.
Shop the range HERE.
Crossfire Standard Heavy Duty Gig Bag
RRP: $49.95
Get your guitar to and from lessons or gigs safely with a Crossfire gig bag! Features heavy duty tear resistant nylon construction, extra thick padding, padded carry handle and backpack straps. Available to fit Classical and Small Body, Dreadnought, Electric and Bass guitars.
Shop the range HERE.
SoundArt SGM-53 Dynamic Microphone with Bag
RRP: $59.95
This is an ideal first microphone for the new performer or if you need an affordable, solid workhorse! Features a cardioid pattern, on-off switch and protective bag.
Shop HERE.
Need more ideas?
Our friendly staff are always happy to make a recommendation based on your needs. Drop in to your local Living Music store or contact us today!