NEW ARRIVALS: 13 Brand New Arrivals From MOOER
NEW ARRIVALS: 13 Brand New Arrivals From MOOER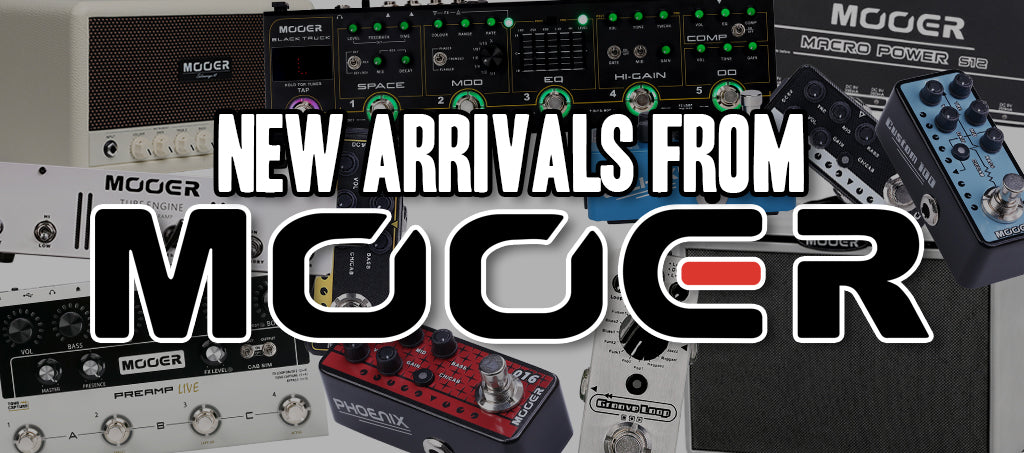 MOOER, the company responsible for some of our best-selling effects pedals including the Radar, Baby Bomb 30 and more, have just released a huge new line up of products. 
Included in this release are new members of MOOER's popular Micro Preamp family, new multi effects units, amps and more. Keep reading to find out more!
New Micro Series Preamp Pedals
Taxidea Taxus 014: This "little badger" is based on a true modern-day classic that delivers rich tones in a small package. Whether it be sultry blues licks or vintage high gain mischief you're looking for, Taxidea Taxus will be able to fill your needs with it's wide array of sonic possibilities.
Shop here.
Brown Sound 015: Harking back to the very early 90's, the Brown Sound  recreates all the nuances and gainful mayhem of one of the most iconic signature amplifiers in guitar history. This original MKI version will have you Jumping all the way to Panama as your audience is sure to Erupt with joy when you whip out face melting shred licks from days gone by.
Shop here.
Phoenix 016: Soaring from the flames, the Phoenix is a homage to modern, German designed metal amps. Punchy, dark lower mids, tight low end and gain on tap. The clean channel goes from crystal clear to cripsy crunch. The gain channel provides everything from fat Rock rhythms and Heavy Metal riffs to searing lead lines.
Shop here.
Cali MKIV 017: The ultimate in compact and versatile Californian combos comes to the Micro Preamp range. Cali MK IV re-creates 2 channels from one of the most famous modern-day session player combos. The clean channel is shimmering and bouncy, the gain channel can achieve purring blues tones, grinding crunch and soaring lead sounds.
Shop here.
Custom 100 018: The Custom 100 is modelled on a 100 watt, plexi based, boutique signature amp. The dual channels span a wide range of EQ and gain settings which make this Micro Preamp incredibly versatile. The clean channel can achieve both F style American shimmer and UK style warmth. The drive channel is distinctly Classic British with a modern twist that provides a huge gain range. A great all-rounder.
Shop here.
Preamp Live
An incredible compact four channel preamp unit with cabinet simulation. The unit features four channels, each with three banks, for a total of twelve switchable preamps. Also includes USB connectivity for managing preamps and cabinet simulation. Outputs include FX loop, MIDI I/O, Phones and XLR D.I. out.
Shop here.
Groove Loop Micro Pedal
The highly anticipated Groove Loop combines the Mooer Micro Looper and Micro Drummer into a single compact pedal to create the ultimate jam companion. Play with 8 drum groove styles with 2 variations of each (16 drum grooves in total). Includes 3 different modes: LOOPER, DRUM, LOOPER + DRUM. Also features independent playback level controls for LOOPER and DRUM.
Shop here.
Black Truck Multi Effects Unit
A revamp of its older sibling, the Red Truck, Black Truck is a multi-effects pedal featuring compressor, overdrive, distortion, EQ, modulation, delay/reverb and tuner. The pedal includes fully featured controls for each effect, tap tempo synchronisation, stereo outputs and dedicated direct output with speaker simulation and independent volume.
Shop here.
Tube Engine Valve Power Amp
The Tube Engine 20 is a 20 Watt, all tube power amp. The Class A/B tube circuit utilizes hand-picked and matched sets of EL84 tubes to provide the perfect platform for use with your preamp pedals, amp modellers and effects units. The Tube Engine is housed in a light-weight, rack-mountable metal chassis with carry handle.
Shop here.
SilverEye10 Speaker and Desktop Amp
The SilverEye10 is an awesome 2x16 Watt stereo HiFi speaker and desktop instrument amplifier. A pair of custom 3" full range drivers with bass ported cabinet deliver accurate and detailed audio playback. Independent instrument volume, gain, bass and treble controls. The speaker also features Bluetooth functionality with a 10 meter range.
Shop here.
GC112 Speaker Cabinet
The GC112 is a portable closed back speaker cabinet that houses a 1 x 12" Celestion V30. Constructed from 15mm Birch Plywood, the closed back design has tight focused lows, sweet mids with lots of forward throw and shimmering highs. The GC112 teams up perfectly with the new Tube Engine 20 or the Baby Bomb 30 for a highly portable yet powerful rig.
Shop here.
Macro Power S12 Power Supply
A high output professional pedalboard power supply. Sporting 2 toroidal transformers and 12 completely independent outputs the Macro S12 can deliver up to 3.4 Amps (3400mA) of clean, quiet and consistent DC power for all of your pedal power needs. High quality metal housing and all the cables you need to get up and running will have you tour-ready in no time!
Shop here.
Smartphone Stand
A super-stylish aluminium smart-phone stand with two angle adjustment points and a non-slip universal phone cradle.
Shop here.
All of these fantastic products are now available in store and online at Living Music. Contact us or drop in to try them out for yourself.